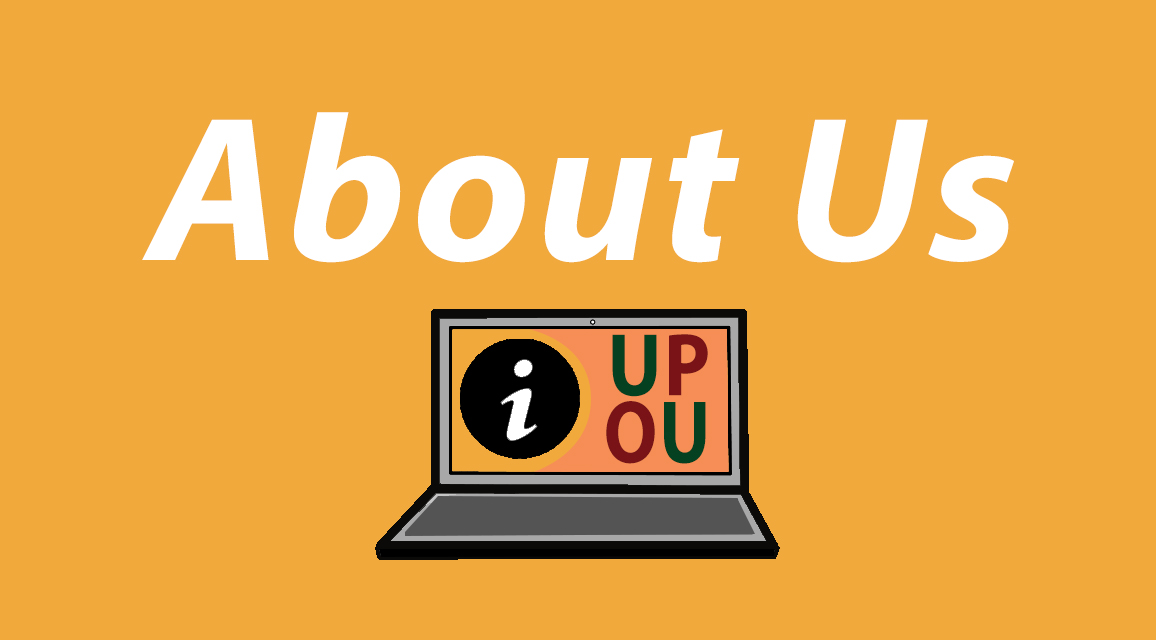 University of the Philippines - Open University

Established on 23 February 1995, the University of the Philippines – Open University (UPOU) pioneered in online teaching and learning and continues to play a leading role in the study and practice of open learning and distance education in the Philippines.
UPOU is envisioned as a leader in teaching and learning in the digital age, helping to equip Filipinos with the knowledge and skills they need for life and work in the 21st century.
Our mission is to provide Filipinos everywhere access to quality higher education through innovative methods of teaching and learning that are designed to be responsive to their needs as well as to national development priorities. We uphold the values of scholarship, academic excellence, academic freedom, humanism, social responsibility, and service to the nation.
UPOU is also mandated to contribute towards upgrading the quality of the educational system of the country by developing innovative instructional strategies and technologies, and sharing these with other colleges and universities through cooperative programs. Republic Act 10650 (Open Distance Learning Law) has tasked UPOU to assist relevant national agencies, higher education institutions, and technical and vocational institutions in developing their distance education programs through training, technical assistance, research and other academic programs.
We are the nation's most comprehensive distance education institution, with three undergraduate programs, ten post-baccalaureate certificate and diploma programs, 13 master's programs, two doctoral programs and 11 non-formal courses. We have a network of 8 learning centers and 20 testing centers in the country and abroad. This coupled with our ability to harness a wide range of digital technologies in education, have enabled us to build a global community of mostly Filipino learners in more than 40 countries.
Mode of Teaching
UPOU employs the distance education (DE) mode of teaching and learning. The key features of DE as practiced at UPOU are:
Students and teachers are physically separated from each other. They do not meet face-to-face in a physical classroom.
Students undertake guided independent study of carefully selected as well as specially designed learning materials in various media — print, video, and multimedia.
Interaction between teachers and students, and among students, takes place through online tutorials in a virtual classroom. Other forms of communication between teacher and student are email, text, and teleconferencing.
Final examinations are conducted either face-to-face at designated learning centers, or online. All examinations are proctored.
Awards and Citations
Designated as the National eLearning Competency Center by the Information Technology and eCommerce Council
MyPortal or UPOU's Virtual classroom, was adjudged by the APEC Digital Opportunity Center as one of the top 10 best in e-practice in Asia
Commission on Higher Education's National Center of Excellence in Open and Distance Education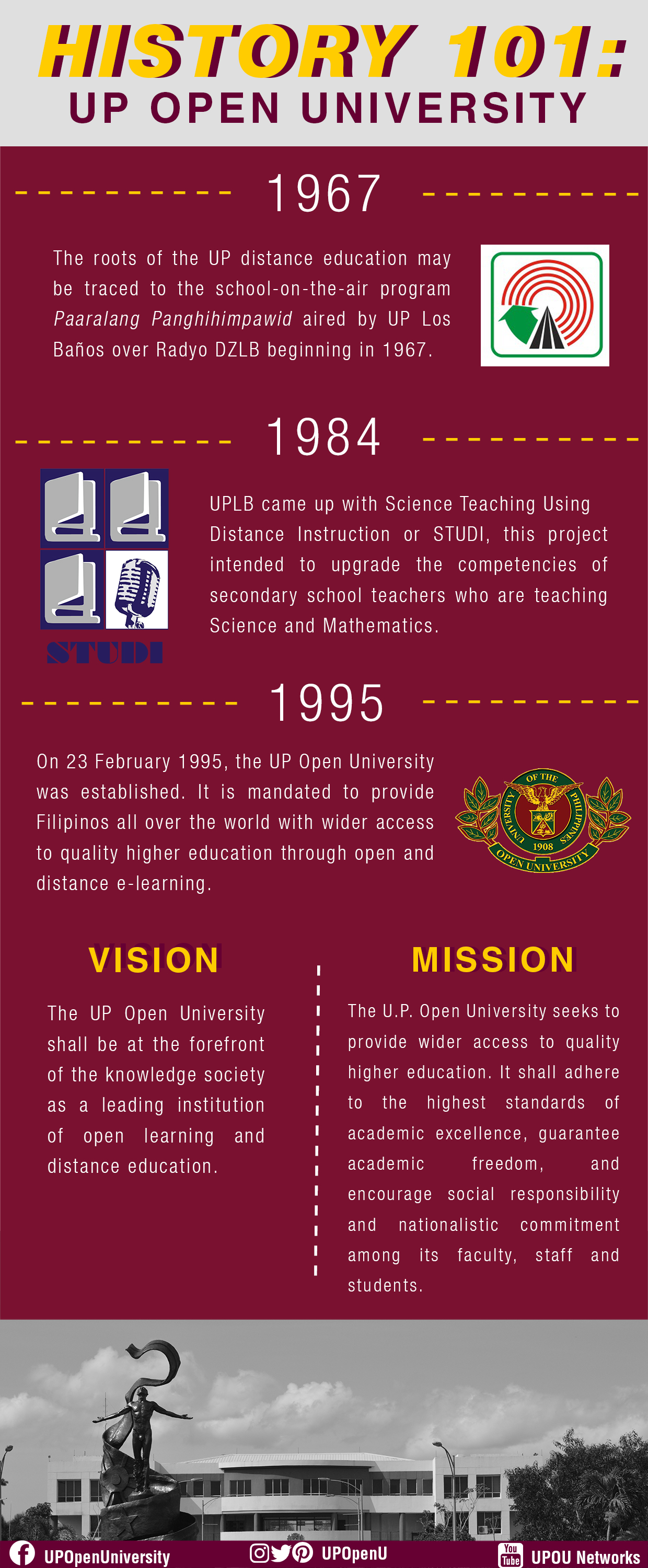 UPOU Networks
The UPOU Networks is the online repository of all multimedia resources produced by UPOU. It has five main features:
UPOU Commons – a repository of the university-produced open educational resources (OER). It is licensed under:

UPOU Publications – a repository of university-produced publications and journals that are open educational resources with creative commons license:

UPOU Live
– features lectures, fora, research presentations, seminars, and other university events that are web-streamed on real time. It enables the university to communicate/reach out to it various publics scattered all over the world. Online viewers are also given the chance to interact with the presenters/speakers through an online chat.
UPOU On Record – an internet radio and also a repository of podcasts produced by UPOU.
UPOU Featured Program – showcases UPOU program offerings on a bi-weekly basis.
The UPOU Networks is a portal where UPOU stakeholders can access a plethora of knowledge in different types of media. Also, it serves as the university's window to the world where communal interaction happens in real-time. The site is managed by the UPOU Multimedia Center.
RA 10650